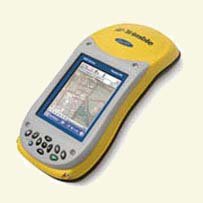 | Item | Daily | Weekly | Monthly |
| --- | --- | --- | --- |
| Trimble GeoExplorer GeoXH 2005 Series GPS Unit | $150 | $450 | $1,400 |
The GeoXH handheld is Trimble's top-of-the-line solution for high accuracy GIS data collection. Engineered with H-Star technology, the GeoXH handheld delivers the subfoot (30 cm) GPS accuracy required by electric and gas utilities, water and wastewater services, land reform projects, and other applications where accurate positioning is crucial. With H-Star technology, there's no need to initializein the time taken to record your attribute information, the GeoXH handheld logs the data you need to achieve subfoot accuracy. If you need the very best accuracy, add a Zephyr antenna to your GeoXH handheld to get 8 inch (20 cm) accuracy.