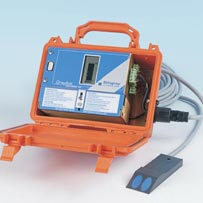 | Item | Daily | Weekly | Monthly |
| --- | --- | --- | --- |
| Greyline Stingray 2.0 Level-Velocity Logger | $168.75 | $393.75 | $1,125 |
FEATURESThe Greyline Stingray 2.0 is a compact, battery-powered logger with an ultrasonic sensor. It data logs level, velocity and water temperature readings for flow monitoring through open channels, partially full sewer pipes and surcharged pipes. Use it for flow surveys, I&I studies, stormwater, irrigation water and sewage.
Measures water level and velocity in partially filled pipes and open channels
No flume or weir required
Extreme low power consumption Uses standard Alkaline D-cell batteries
130,000 point data logger
USB output
Powerful Windows software
LCD bar graph display
HYDRODYNAMIC ULTRASONIC SENSOR
Stingray 2.0 uses a submerged ultrasonic sensor to continuously measure both velocity and level in the channel. The sensor is a completely sealed ultrasonic unit with no orifices or ports. It is hydrodynamically shaped and designed to shed deposits and stringers for reliable operation in sewage, stormwater and stream flow applications. The QZ02L sensor mounts inside the pipe or at the bottom of an open channel. No special compounds, tools or hardware are required. A stainless steel mounting bracket is included.
POWERED BY STANDARD ALKALINE BATTERIES
With four standard Alkaline D-cell batteries the Stingray 2.0 will operate up to 4 years! These inexpensive Alkaline batteries are available in stores everywhere and with an extremely low self discharge rate they will reliably power the energy-efficient Stingray 2.0 for the duration of your flow study.
Stingray 2.0 stores 130,000 data points including level, velocity and water temperature. Between readings it powers down to conserve energy.
STINGRAY 2.0 CONFIDENCE DISPLAY
You can check operation with the built-in LCD bar graph display. It scrolls through level, velocity and temperature readings, plus remaining battery and logger storage capacity. The display turns off automatically after 60 seconds to conserve battery power.